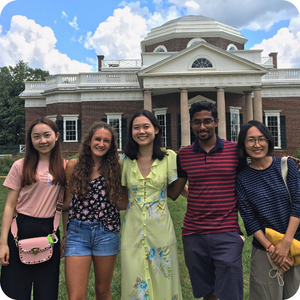 Do you want to work with international students this summer? Do you need a summer position to gain experience in a classroom setting? Become an Instructional Assistant with CAELC! Apply here! 
Duties and Expectations
Our goal is to provide the best possible English and intercultural program for the international language learning community at UVA. To achieve this, we expect our Instructional Assistants to work in five principal areas during EAP. 
Classroom Assistance 
An IA's tasks can be varied, depending on the day and the need of the instructor, but IAs are responsible for making sure that the instructor is ready to teach (i.e. preparing materials) and that the students are ready for instruction (for example, IAs may warm up an oral class with a discussion activity).  IAs are also expected to provide meaningful interaction and feedback to students.  
Conversation Hours 
Each week, IAs are expected to hold conversation hours with the EAP students. This allows the students to practice their oral English in an informal setting, meet others, and learn more about UVA from current students. In addition to holding the conversation hours, IAs are expected to proactively organize and promote these hours to EAP students. This will require planning prior to the start of EAP and adaption during the program, as needed.
Wednesday Activities 
IAs are required to participate in at least one set of activities on one Wednesday during EAP. Activities can include tours, info sessions, and other experiences to help students learn about UVA, the Charlottesville area, and life in the United States. IAs are welcome to join more activities if they so choose.
Technology 
IAs are expected to have a solid grasp of the University's technology setup in order to assist instructors and students, particularly Netbadge, DuoLogin, and connecting to wifi on grounds. All IAs should have access to a computer, a reliable internet connection, and should feel comfortable with using Zoom, Google Suite, UVACollab, and Office 365. 
Administrative Support 
IAs are expected to perform administrative duties for CAELC over the course of the program.  Some of these duties include: 
Communicating effectively. It is imperative for IAs to be both clear and prompt in their communication with CAELC faculty and staff, as some tasks are time-sensitive.
Attending all faculty/staff meetings for EAP before, during, and after the program. 
Proactively reporting any problems that may arise during classes or events.
Helping with an orientation event for the students.
Creating a final project for the final ceremony.  Each year, our IAs collaborate on a final project that recaps the EAP experience for students in a meaningful way. This is a great opportunity for our IAs to come up with something creative!  We expect this to recap the program from beginning to end, so it will require some continual planning and work throughout the program.
Helping with a final ceremony event for the students.
---
Eligibility Requirements
The following are required components of the position:
40 hours per week during the 4-week summer program, along with two pre-program meetings. For current EAP dates, please reference the position timeline below.
Enrollment at UVA as an undergraduate or graduate student.
---
Application Timeline & Hiring Process
Our IA application is open for submissions in early spring of each year in preparation for the summer EAP program. Please review the information below to find out when you can apply and what materials we require for submission.
Position Timeline
March - Application form opens for submissions. To access the application, refer to the link below.
May 1 - General Application deadline. Applications may still be accepted after this date, depending on the number of applications received. It is recommended that interested students apply early! 
May 31-July 15 - Successful applicants are expected to attend two pre-program meetings with CAELC faculty and staff in order to prepare for the upcoming summer program.
July 16 - EAP Orientation
July 17-August 10 - EAP Classes and Weekly Events
August 11 - EAP Final Ceremony
Application Form
To access the application, click on this link. Not familiar with Handshake? We recommend visiting the Career Center's info page.
Required Application Components
Completed application form
Resume
Cover Letter
Short Personal Statement (within 250 words) that clearly answers the following questions:

Why are you interested in this position?
How might being an IA fit into your future career goals?

Interview (approximately 30 minutes)
The application form will provide a space for you to submit your resume, cover letter, and personal statement. More details about the interview will be provided in the application. Incomplete applications will not be considered.
Compensation
IAs will receive an hourly undergraduate/graduate wage for the 4 week program. 
---
Questions
If you have any questions about EAP, please direct them to CAELC at caelc@virginia.edu.