On this page, you can find answers to frequently asked questions about CAELC and its services. Please reference this page before emailing or calling CAELC. Also, take a look at our flow chart below about how students move through services at CAELC.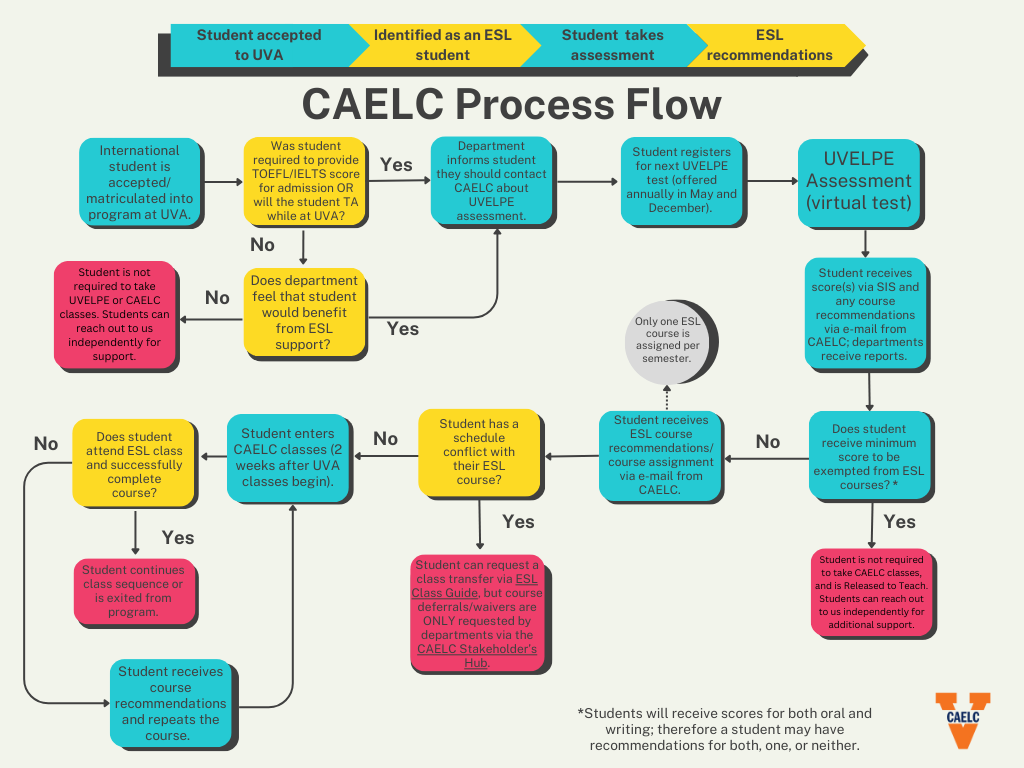 What is the difference between the stand-alone SPEAK and New UVELPE?
Please note: As of August 2020, the New UVELPE will now include the SPEAK Test. CAELC will continue to offer the SPEAK Test as a stand-alone option for all students not required to take the New UVELPE (potential teaching assistants who had TOEFL waived OR students who have already taken the UVELPE).
The New UVELPE (University of Virginia English Language Proficiency Exam) is a test of writing, grammar, and oral English that is required for all international students upon entry to the University. This test is used by CAELC and UVA to recommend international students for the appropriate level of writing and oral English classes. The test has three portions, an online open-ended writing section (45 minutes), an online multiple-choice grammar and vocabulary section (45 minutes), and an oral SPEAK interview (45 minutes). Students do not need to study or prepare for this test. This test satisfies the current graduate requirement for all prospective international TAs that need the SPEAK Test.

The stand-alone SPEAK test is a test of oral English proficiency that is used by CAELC and UVA to determine whether a prospective international Teaching Assistant possesses the linguistic and cultural proficiency required to teach in a US classroom using American English. This test is used to recommend the appropriate level and sequence of oral English classes for ITAs (international Teaching Assistants), if needed. Students answer a series of prompts on a variety of topics while being recorded. Students do not need to study or prepare for this test. This test is only offered to prospective international TAs who were not required to take the UVELPE Test.
Can students be exempted from the SPEAK or UVELPE?
There are no exemptions from the SPEAK Test. If a student's first language is other than English, the SPEAK Test is required.
Students are exempted from taking the UVELPE if they were not required to submit TOEFL scores with their application to the University. However, departments can still require students to take the UVELPE if they would like the student to enroll in ESL classes.
How do departments/students know if a student is Released to Teach (RTT)?
There are two ways students can be RTT:

1. If a student has passed ESL 911 (Classroom Communication: Teaching and Preparing for the Job Market) with a grade of Satisfactory, he/she is Released to Teach.
In some cases, the student's ESL instructor may recommend that he/she enroll in ESL 912 (Classroom Communication for International Teaching Assistants II) for additional support while performing TA duties. ESL 912 is not a course with a regular meeting pattern. It is an independent course in which a student Teaching Consultant (supervised by the Academic Director) observes the ITA's course and subsequently debriefs with him/her. As part of ESL 912, the ITA will also have regular meetings throughout the semester with the director of the International Teaching Assistant program.

2. If a student passes the SPEAK test with a grade of 55 or higher, he/she is Released to Teach.
What is the difference between NFOT and RTT?
Students who receive NFOT (No Further Oral Training) in their recommendations for the semester are not recommended for any further oral classes. A recommendation of NFOT can result from the UVELPE. This recommendation simply means that the student does not, in the view of CAELC, require any further oral English support to study at the University. However, NFOT does not mean a student is automatically Released to Teach (RTT).

RTT means that students have either passed ESL 911 with a grade of Satisfactory or passed the SPEAK test with a score of 55 or higher. Students who have only taken the UVELPE cannot be RTT. This recommendation means that the student has prepared or is proficient enough to not only study at the University, but to perform TA duties.
What types of classes are there and what is the sequencing?
CAELC offers writing and oral communication classes. More information and specific course descriptions can be found on our Courses page.
Writing courses, ESL 901 and 902, are not sequenced, and students can be recommended for either course or both courses. These two courses focus on different aspects of the writing process; ESL 901 focuses on local structural aspects of written English such as grammar and sentence structure, whereas ESL 902 focsues on global aspects of written English such as organization and argumentation.

Oral courses, ESL 905, 907, 909, and 911 are sequenced from lower to higher proficiency, and students typically progress through these courses up through 909 or 911.
ESL 910 is focused specifically on pronunciation training and is thus not part of the sequence of oral courses.
Can CAELC defer or waive recommended courses for students?
No. CAELC tests students and then recommends them for courses but does not have the authority to defer courses to a subsequent semester or waive courses completely. Students must direct all deferral and waiver questions to their departments and Directors of Graduate Study.
Can students enroll themselves in CAELC ESL classes via SIS?
No. Because students are placed in CAELC ESL classes based on recommendations from test scores or previous class performance, CAELC enrolls students in their recommended courses in SIS. This happens two weeks after the start of CAELC classes, so students should not be concerned if their ESL classes do not show up in SIS for the first two weeks of the CAELC semester.
Where can departments/students find a schedule of ESL classes?
The schedule of ESL courses for the current semester can be found by logging in to Student Information System (SIS) and searching under Subject: ESL. Please keep in mind that some sections of classes are restricted to students from specific schools.
I'm not a UVA student or affiliate.  Can I take ESL classes?
We offer two non-credit courses at the Lorna Sundberg International Center for dependents, visitors, and members of the local community.  Please visit this page for more information.
Do you accept visiting scholars into your department?
Unfortunately, CAELC isn't a department here at UVA, and we don't offer or assign scholar positions for the University.  If you're interested in being a visiting scholar, we suggest that you contact the department you are interested in to find out more information. 
Will my scores on TOEFL or another language assessment test be enough for admission into UVA?
We do not set the language requirements for admission into the University.  Each individual UVA school has their own set of requirements for admission, and you must consult with the school you wish to apply to in order to find out if your scores meet their requirements.